Mort Castle will appear ALL THREE days of Ogden UnCon!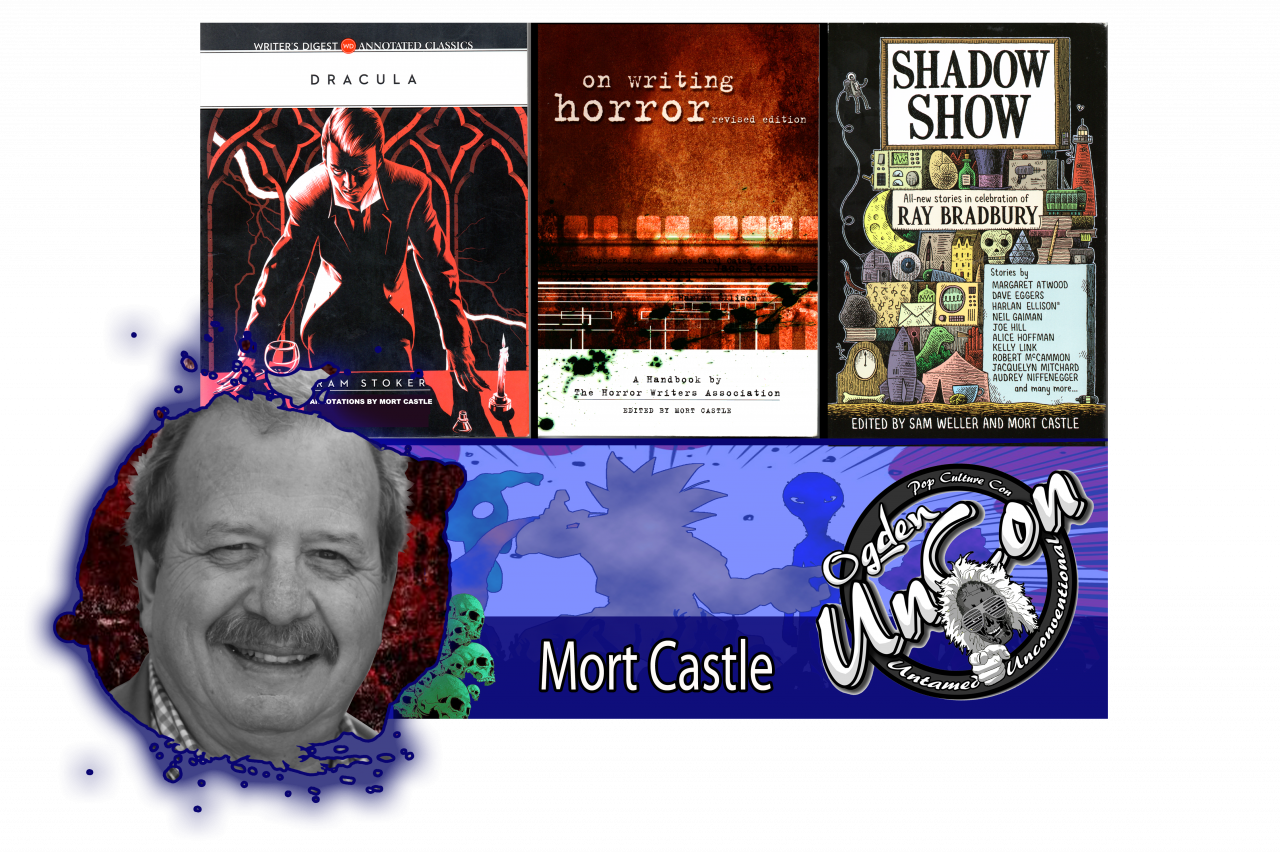 A former stage hypnotist, folksinger, and high school teacher, Mort Castle has been a publishing writer since 1967 and has had over 600 publications. You'll find his work in classic men's cheesecake mags like Cavalier and Mr. to literary publications like Riverside Quarterly and Bombay Gin, from the confessions magazines True Secrets and
Intimate Romances to agricultural publications such as Hog Farm Management
and comics like Leatherface. In 2018, a special Halloween issue of Poland's
Playboy Magazine re-introduced fiction to its pages with Castle's story "Light."
As writer or editor, Castle has 20 books to his credit. He edited the contemporary
classic reference work On Writing Horror and co-edited, with Sam Weller, both
the prose anthology and the graphic novel compilation, Shadow Show: Stories
in Celebration of Ray Bradbury. His novels include The Strangers and Cursed Be
the Child. Knowing When to Die, his most recent book, earned such accolades as:
"... haunting, funny, unpredictable, and wildly imaginative stories ... Mort Castle is the real deal!"
—Ron Hansen, author of The Assassination of
Jesse James by the Coward Robert Ford

"Mort Castle's stories ... have a timelessness to them, an intimation of myth that touches the back of your neck. He's one of the greats."
—Dan Chaon, author of Ill Will, named one of the best
books of the year by The New York Times

Mort Castle has won three Bram Stoker Awards®, two Black Quill awards, the Golden Bot (Wired Magazine), and has been nominated for The Audie, The Shirley Jackson award, the International Horror Guild award and the Pushcart Prize. In 2000, the Chicago Sun-Times News Group cited him as one of 21 "Leaders in the Arts for the 21st Century in Chicago's Southland."
In 2019, Castle will serve as a producer on Shadow Show, an original anthology series on Roku's Terror TV, inspired by the book and comics of the same name. The program is produced in association with Council Tree Productions and Castle and his partners in 4 Maples Productions.
Castle teaches in the Creative Writing Department of Columbia College Chicago. He and his wife, Jane, have been married forty-seven years and live in Crete, Illinois.
Ogden UnCon welcomes Mort Castle!

Mort Castle's Schedule
6/7/2019 - 10:00a- 11:00a - Panel (3 Prime Rules for Writing Horror or any Fiction) - Conference Center Room 103
6/7/2019 - 11:30a - 2:30p - Fan Meet (Autographs, Selfies) - Conference Center Jr. Ballroom
6/7/2019 - 3:30p - 7:00p - Fan Meet (Autographs, Selfies) - Conference Center Jr. Ballroom
6/8/2019 - 10:30a - 11:30a - Panel (The Story of a Story: Imagination + Reality) - Conference Center Room 103
6/8/2019 - 12:00p - 3:00p - Fan Meet (Autographs, Selfies) - Conference Center Jr. Ballroom
6/8/2019 - 4:00p - 6:00p - Fan Meet (Autographs, Selfies) - Conference Center Jr. Ballroom
6/9/2019 - 10:00a - 12:30p - Fan Meet (Autographs, Selfies) - Conference Center Jr. Ballroom
6/9/2019 - 1:00p - 2:00p - Panel (Intro to Comics) - Conference Center Room 103